Mixing multimedia with deadpan-cool (and very sexy) actors, Scheib is forging new ways of seeing drama. - Time Out New York
"Rude, brutal, sexy and mesmerizing…Scheib is a master at combining live and video storytelling." James Herbert, UT San Diego
"Platonov, or the Disinherited" Opens Wednesday! Read the preview/profile in the New York Times
"Acting for both a film and a stage production at the same time would seem a terrific challenge. But it is one that cast members embraced as they took off dresses, slugged vodka and brandished knives while twin cameras orbited. Mr. Scheib seemed pleased, smiling and sweating in the center of what he called "a little circus, a little dance and a little football." Alexis Soloski - The New York Times
"Platonov or the Disinherited," after the fragment Platonov by Anton Chekhov, is a new live cinema performance adaptation of Chekhov's first full-length play chronicling an emotionally bankrupt society of anti-heroes who are, less heroically, also losing their loves, their homes, and perhaps, their humanity as well. In an unprecedented experiment? the performance is realized for dual platforms simultaneously — as live play Platonov, or the Disinherited and as a live feature film, performed, shot and edited in real time at The Kitchen in downtown New York City and simulcast to AMC Empire Cinema in Times Square and to BAM Rose Cinemas. This physically daring and emotionally charged performance brings director Jay Scheib's acclaimed vision to the Cinema for the first time.
Platonov, or The Disinherited
Stage design by Josh Higgason and Caleb Wertenbaker, sound design by Anouschka Trocker, video design by
Josh Higgason, live camera by Jay Scheib and Laine Rettmer, and costumes by Alba Clemente;

Starring Sarita Choudhury, Mikeah Ernest Jennings, Virginia Newcomb, Rosalie Lowe, Jon Morris, Ayesha Jordan, Laine Rettmer, Jay Scheib, and Tony Torn.
A Jay Scheib & Co. Production produced in association with ArKtype / Thomas O. Kriegsmann and La Jolla Playhouse
DATES
The Kitchen — January 8 - 24 (2014) at 8PM — Tickets available at The Kitchen, 512 West 19th Street, NYC
—and Online at http://thekitchen.org
Live Broadcast at
At BAM Rose Cinema — January 9, 16, 23 (2014) at 8PM — tickets are here:
http://www.bam.org/theater/2014/the-disinherited
and at
AMC Empire 25 in Times Square — January 8, 15 & 22 (2014) @ 8PM, Tickets are free thanks to the Times Square Arts Alliance at 234 West 42nd Street or ONLINE
A 2011-12 Guggenheim Fellow, Jay Scheib is an acclaimed writer, director and designer of plays, operas, and installations. Scheib's recent works include World of Wires at The Kitchen (NY); a multimedia staging of Evan Ziporyn's new opera A House in Bali as part of BAM's 2010 Next Wave Festival in New York City, and at the Cutler Majestic Theater in Boston; Bellona, Destroyer of Cities premiered at The Kitchen followed by performances at the Maison des Arts Creteil (MAC) Exit Festival in Paris; Bertolt Brecht's Puntila und Sein Knecht Matti at Theater Augsburg, and Beethoven's Fidelio at Saarlandisches Staatstheater. Scheib is an Associate Professor for music and theater arts at MIT, and a regular guest at the Norwegian Theater Academy, The Mozarteum Institute for Acting and Directing.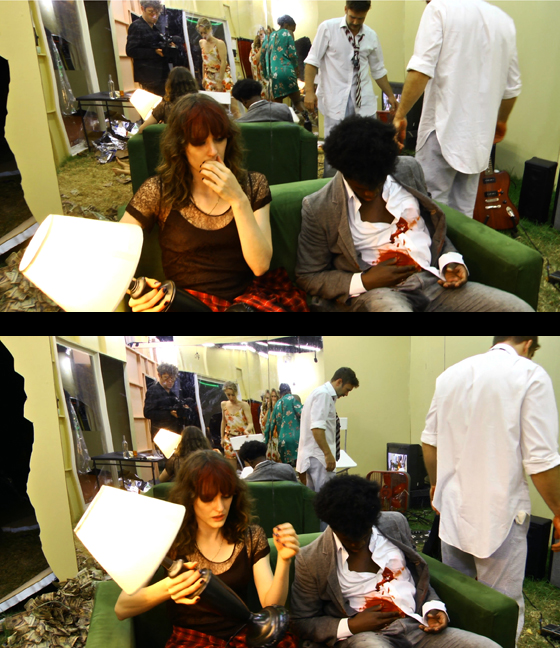 SIMULATED CITIES / SIMULATED SYSTEMS

World of Wires, after the SciFi TV Series by Fassbinder
Premiered January 6, 2012 at The Kitchen (World of Wires Press Release Here)


World of Wires Adapted and Directed by Jay Scheib after the film by Fassbinder. Pictured:
Ayesha Ngaujah, Jay Scheib, Laine Rettmer, Sarita Choudhury
Photo by Paula Court, Courtesy of The Kitchen (hi res publicity images here)
In development is a trilogy of hybrid performance works under the banner, Simulated Cities / Simulated Systems. All three have been developed In residence at Massachusetts Institute of Technology. Untitled Mars (This Title May Change) premiered at Performance Space 122 (April 2008) in New York followed by performances at the Hungarian National Theater, Budapest; Bellona Destroyer of Cities played a sold out run at The Kitchen (April 2010) and was presented as part of the Maison des Arts Cretéil (MAC) Exit Festival in Paris followed by a run at the Institute of Contemporary Art Boston, (May 2011) ; Part 3, World of Wires will premiere at The Kitchen January 6, 2012. Envisioned as an ongoing series of collaborations across disciplines, Simulated Cities / Simulated Systems flows an exchange of ideas with aerospace and astronautics, architecture and conceptual civil engineering, computer science and artificial intelligence.
SPONSORSHIP
The Kitchen's presentation of Platonov, or the Disinherited is made possible with public funds from the New York City Department of Cultural Affairs. Platonov has been developed with support from La Jolla Playhouse, a Massachusetts Institute of Technology School of Humanities Arts and Social Sciences Research Grant, and The Kitchen, and has received generous support from The MAP Fund, a program of Creative Capital supported by the Doris Duke Charitable Foundation and The Andrew W. Mellon Foundation.
We greatly appreciate the support of all the individuals and institutions listed above. Donors are listed in alphabetical order and not separated by amounts. Please consider contributing. Your name will be added to the list above or you may choose to remain anonymous.
If you are interested in being involved in the next season, as a producer, commissioner, or contributor, please contact jayscheib@jayscheib.com
Jay Scheib, jayscheib@jayscheib.com, 1.917.612.2137