Conceived and directed by Jay Scheib
PREMIERING AT THE NATIONAL THEATER OF BUDAPEST NOVEMBER 27 AND 28, 2008 AT 7PM

Premiered at Performance Space 122, April 2008

Crash-landing seven performers into a simulated Martian Environment in UNTITLED MARS: This Title May Change. The first in a trilogy of works for live performance under the banner SimulatedCities / SimulatedSystems, UNTITLED MARS is an international collaboration between celebrated theater ensemble Pont Mühely of Budapest and a team of research scientists phoning in their performance live via satellite from the Mars Desert Research Station in Utah. Sound fake? It's not. UNTITLED MARS is a mind-bending excursion into an interplanetary future defined by Scheib's signature multi-media aesthetic. This not to be missed performance is a Science vs. Fiction Simulation of Real Simulation as performed by Real Scientist in the very Real Utah desert. Rewriting Fiction with Reality UNTITLED MARS: This title may Change caps a year of collaboration with an international team of Space industry visionaries, artists and research scientists and students from Massachusetts Institute of Technology.


with performances by
Dorka Gryllus, Caleb Hammond, László Keszég, Catherine McCurry, Laine Rettmer, Tanya Selvaratnam, April Sweeney, Natalie Thomas, Balázs Vajna with special on-camera appearances by Waris Ahluwalia, Phillip Cunio, Dr. Henrik Hargitai, Kofi Hope-Gund, Zahra Khan,and Dr. Robert Zubrin Robert Zubrin
and others…


Scenic Design by
Peter Ksander
, Costume Design by
Oana Botez-Ban
, Lighting Design by
Miranda Hardy
, Sound Design by
Catherine McCurry
, Video Design by
Miklos Buk and Balázs Vajna
Dramaturg/Hungarian Project Manager:
Anna Lengyel
Untitled Mars (This Title May Change) is made possible through the generous support of the Ensemble Studio Theatre/Alfred P. Sloan Foundation Project For New Plays on Science & Technology; The Trust for Mutual Understanding; The Hungarian Cultural Center; Deutsch-Ungarische Industrie und Handelskammer; The Gertrude Stein Repertory Company; Swing Space, a program of Lower Manhattan Cultural Council, generously supported by the September 11th Fund, project space donated by Capstone Equities; with special thanks to the Mars Society, and Massachusetts Institute of Technology School of Humanities Arts and Social Sciences.
Press Information
Production Information / Press Package.pdf

Reviews: Time Out NY, Voice, Post

Runs NOVEMBER 27 AND 28, 2008 AT 7PM
Budapest National Theater, Hungary
http://www.nemzetiszinhaz.hu/

Photos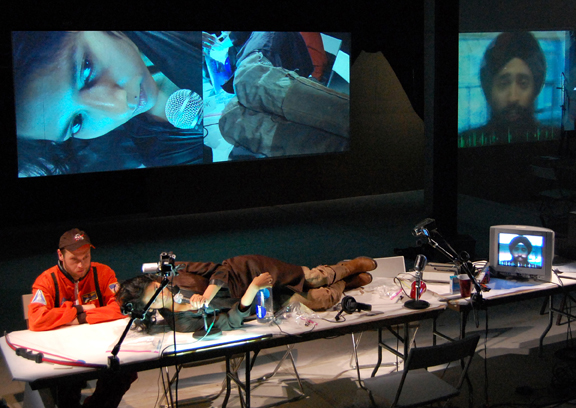 Balázs Vajna, Tanya Selvaratnam, Waris Ahluwalia
Photo by Kati Stráhl hi res images here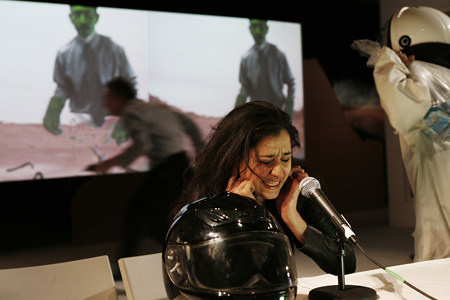 Karl Allen (on screen), Dorka Gryllus, Tanya Selvaratnam
Photo by Justin Bernhaut hi res images here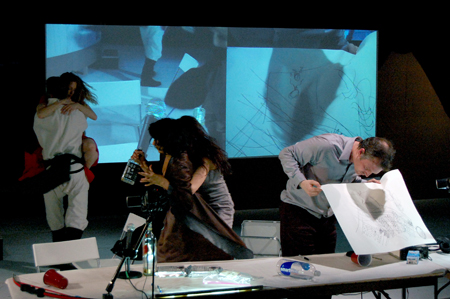 Karl Allen, Dorka Gryllus, Caleb Hammond,
Tanya Selvaratnam, Natalie Thomas
Photo by Kati Str

á

hl hi res images here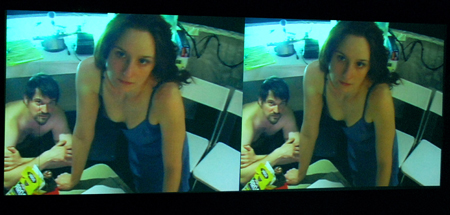 László Keszég

and April Sweeney
Photo by Kati Str

á

hl
hi res images here
Contact Jay Scheib: jayscheib@jayscheib.com